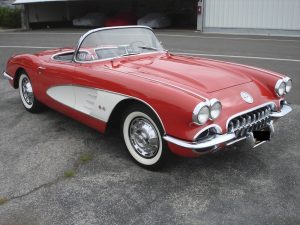 Exterior: Red / White Coves

Interior: Black

Engine: V8
Aesthetically, the 1959 Chevrolet Corvette has minimal changes from that of the 1958 model. The '59's trunk chrome strips were scrapped, but those that ran along from the headlights remained for this version. Structurally, the 1959 model retained the same engine and horsepower rating of the '58. However, the '59 did have the new reverse lock-out handle on the 4-speed shifter. In order to reduce glare, the interior was revised with a new concave instrument panel with different instrument graphics. Additionally, a storage bin was added to the passenger's side. Chevy redesigned both the seats and door panels, and it included as standard features: Tachometer, seat belts, outside rear view mirrors, electric clock, dual exhaust, and its front hood louvers were removed, but sun visors were offered as an option.
This 1959 Chevy Corvette has had two previous owners from Sacramento, Jim Donaghue and Ray Calonico. William O. Fleischman acquired the car from Corvette Mike's in 2002.