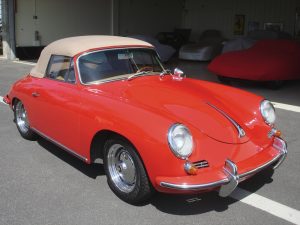 SOLD
Exterior: Signal Red
Interior: Tan Leather
Engine: 4

Restored 1961 Porsche 356 B Cabriolet convertible with a 4-cylinder engine, Signal Red exterior (authentic Porsche color: #6011), tan leather interior, and tan, thick padded, soft top.
In late 1959, the 356 B (T-5 body type), which had a squared-off hood and larger windshield, rear window, and lid, appeared with various improvements. The most significant visual differences between the B series and model A, were the raised headlights and re-contoured, raised bumpers – both front and rear. The headlights were raised and the front bumper rim guards were enlarged and lifted approximately 10 centimeters. The front lid handle was made wider at the bottom, and the lid's twin horn grilles were flatter and had two (2) chrome-plated slats. The 356 B's front indicators protruded more slightly and two (2) lamps for the number plate lighting were integrated into the design. The reversing light was mounted under the bumper and the gas fill was moved to the top of the right fender. Also improved upon was the new model's handling with softer rear torsion bars and a transverse rear leaf spring.

This Porsche's previous owners upgraded: Engine to authentic Super 90 specs; brakes to silicon (DOT 5) with all new parts; and electrical to 12 volt. Current owner fully restored underside of vehicle and various mechanicals. Other features include: Wood steering wheel, horn ring, tire jack, took kit, owner's manual, alarm system (with instructions), new car cover, and extra matching leather. Fantastic road car and documented show winner.