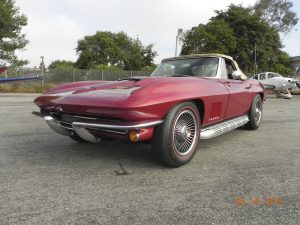 SOLD
Exterior: Marlboro Maroon
Interior: Beige and beige top
Engine: 427 / 435
Believed to be considered the best year of the Sting Rays, there were four versions of the 427 released in 1967: (1) L36; (2) L68 with 400 HP; (3) Tri-Power L71 equipped with 435 HP; and (4) the rare L88 at 430 HP. 1967 was the last year of the C2 generation Corvettes (first introduced in 1963) with the block engines more powerful than previous years. This made the Sting Ray the most desirable of the time, to mention the additions of power-steering and power brakes.
This V8 has revolutionary styling and lightweight bodywork, finished in Marlboro Maroon with a tan soft top.

The Corvette Sting Ray is a truly powerful American sports car.