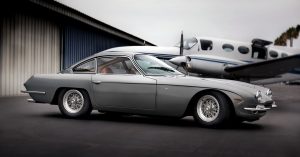 SOLD
Exterior: Seafoam Mist
Interior: Tan Leather
Engine: V12

Ferruccio Lamborghini, who originally owned a tractor business, set his sights on a new venture: His own sports car business. As fate would have it, Giotto Bizzarrini joined his design team after a dispute with Enzo Ferrari. It wasn't long before Lamborghini was manufacturing a better performance car than the long-established Ferrari, since Ferruccio introduced an all-new, quad-cam engine, a synchromesh 5-speed gearbox, and independent disc brakes, and Ferrari was still using a single-cam motor, 4-speed gearbox, and live rear axles.

However, because demand was high, Lamborghini had to find a less time-consuming and decreased laborious way to get his sports car out to the public. Carrozzeria Touring of Milan, a premier, Italian coachbuilder during that time, assisted with refining the 400GT's Superleggera Scaglione design, which included upgrades and tweaks to the sturdiness of the steel body, redesigned roofline, oval headlights, more seating space, and the V12 engine touting a power output of 320 bhp (239 kW). Even The Beatles', Paul McCartney, purchased one of these new 400GTs.

Autocar magazine voted the 400GT, "…better than all the equivalent exotic and home-bred machinery in this glamorous corner of the fast-car market." Those who judged its V12 engine said it had the smoothest torque they had tested to date.
After being purchased by its current owner in 2010, this car underwent a complete restoration by Bobileff Motorcar Company and was finished in 2012.