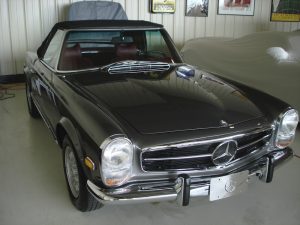 Exterior: Anthracite Grey
Interior: Red with Black Top
Engine: 6
Designed by Mr. Bela Barenyi, head of Mercedes-Benz pre-development department at the time, the Mercedes-Benz 280 SL was a technological tour de force when it came out, featuring fuel-injection, overhead camshaft, and a straight-six engine with 170 horsepower. It was equipped with disc brakes on all four wheels – a rare commodity for that era. Both four and five-speed manual transmissions were available for this model. The 280SL could reach 60 mph in 8.6 seconds and stop from 70 mph in 233 feet.
However, don't be mislead. While the "SL" in Mercedes' lingo means, "Sport Leicht" or "Sports Lightweight", this car is solid cruiser. Its chassis construction featured front and back deformation zones – notably, a first for a sports car. Furthermore, constructing it with an aluminum hood, deck lid, and door skins made is less heavy. The 280SL's seemingly delicate appearance could actually withstand a 1000 kg load. As an added benefit, Barenyi designed the car so the driver could see clearly from all sides.
This Mercedes-Benz is a 1970 280SL (VIN: 10015795) in Anthracite Gray with red leather interior, 4-speed transmission, alloy wheels, and 57,000 miles.
The vehicle was previously owned by Alvin Martz of New Jersey, a collector of Mercedes-Benz cars, when William O. Fleischman bought it in 2008. (Per Mr. Martz there were no previous service records from his previous buyer.)