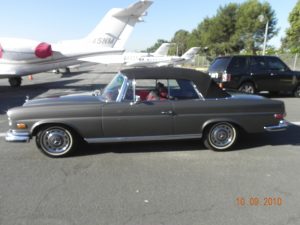 SOLD
Exterior: Anthracite Grey
Interior: Burgundy with Black Top
Engine: V8
Mercedes-Benz ended their production of the S-Class with this top of the line model 280SE 3.5 Cab. A limited number of examples built, only 1232, and were the last of Mercedes' hand-built vehicles, accounting for their high price when first released, only to increase in value over the years. It was the most luxurious convertible Mercedes had to offer in 1971. The body sported clean lines and a unified grille adding to its fresh appeal.
This particular Mercedes originally sold in Las Vegas, and thereafter to a client in Malibu. It was purchased by Mr. Fleischman in 2007 and underwent a full restoration by Scott Melnick, noted Mercedes-Benz restorer and mechanic. The restoration was completed in approximately 2 years, with an expense of excess $200,000 to restore the car to its original Anthracite Grey/burgundy interior, which it maintains to this day.
With a powerful 3.5 litre V-8 engine, the car drives exceptionally well with a perfect blend of smoothness and control. The 3.5 goes from 0-60 in under 10 seconds and top speeds in excess of 125 mph. It has been regularly maintained, with only 2,500 driven miles since restoration.
The exterior done in Anthracite Grey is in excellent condition with high quality detail all around. The chrome appears like new. Interior is a striking burgundy with a black top.