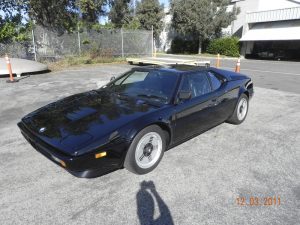 SOLD
Exterior: Black
Interior: Black
Engine: 3453 cc DOHC straight-6 M88/1
This BMW M1 was initially completed at Ital Design on June 30, 1980, with final assembly at Baur and completed on September 9, 1980. Its original engine number was M88-387 and was assigned VIN: S59910004301326, making it #326 of 460 planned vehicles to be built beginning in July of 1978 and ending in March of 1981. While 460 of these units were scheduled to be manufactured, the most accurate sources show a total production of not more than 440. Of these vehicles, 399 were allocated to be normal production street cars and the remaining balance assembled for test purposes or racing in the ProCar Series.
According to the M1 Register Report, in 1981, 176 were produced as street and 8 as race for vehicle numbers 276 to 460 (plus, 267 and 271) and, of all the M1s manufactured from 1978 to 1981, only two were painted black.
Upon completion of this M1, it was delivered directly to its first owner, a well-known collector, Gil Steward of Massachusetts, who held onto it for many years. It was then sold at a Tarrytown auction to another collector, Lang Wheeler of Vermont. After some time, Wheeler sold the car to Steve Serio of Aston Martin – New England (and a contributor to Sports Car Market magazine). Its next owner was Clark Schaeffer of Colorado, who then sold it to Ed Waterman of Motorcar Gallery in Florida, a company that has sold more M1s than anyone in the North America.
When purchased by its current owner, this 30-year old car had not been restored or refurbished, and even its original BMW wheels were in need of repair. Since that time, the car has undergone various repairs, including refinishing the wheels and decals, rebuilding the seats and calipers, fixing both the brake and gas pedals, and replacing the center console, battery, air filter, hazard flasher switch, and tires.