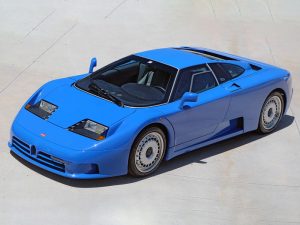 Exterior: Bugatti Blue
Interior: Grey
Engine: V12
The EB110 supercar of the 1990's was the most technologically advanced car of its time, performing 0 to 60 in less than four seconds. The full carbon chassis was built by aircraft company Aerospatiale, with signature "scissor doors" styled by Giampalo Benedini and Marcello Gandini. Only 139 EB110 GTs were ever produced by Bugatti.
This Bugatti Blue (originally dark green) with grey interior is one of only six early build cars that could legally come to the United States, and is regarded as the finest and lowest mileage example that exists. With just a single owner from new – Yutaro Okamoto of Japan – and 8,000 original documented kilometers (before its current owner), the car participated in the Italian Bugatti rally in June of 1994. After that rally, the car was shipped back to Japan and both the dashboard and transmission tunnel were re-trimmed in grey Alcantara.
It has a 550 brake horsepower, 3,500 cc DOHC V-12 engine with four turbochargers (capable of 213 mph), six-speed manual transaxle, four-wheel drive, independent front and rear suspension, four wheel internally ventilated hydraulic disc brakes, and a 100.4 in wheelbase. This is a very rare supercar and truly a modern-day collectible.