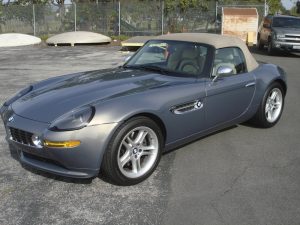 SOLD
Exterior: Stratas
Interior: Creme
Engine: V8
The BMW Z8 roadster (2000-2003) was originally designed as a nod to the BMW 507 of the late 1950s (56' through '59 to be exact). The prototype was featured in the 1999 Bond film, "The World is Not Enough." With a lightweight, corrosion-resistant, all-aluminum chassis and a 4.9 liter, 32-valve V8 engine (located behind the front axle to provide equal weight distribution), BMW touted it could go 0 to 62 mph in 4.7 seconds. However, Motor Trends' tests resulted in 4.2 seconds.
The Z8's top speed is 155.4 mph and has neon exterior lighting that is supposed to last for the entire lifetime of the car. It comes with a metal hard top with a rear defroster built-in.
All elements of the Z8 were constructed or finished by hand. Even though the production of the Z8 was quite limited, BMW promised that a 50-year stockpile of spare parts would be available to Z8 owners for repairs.
According to various sources, since its $128K starting price, the Z8 has not depreciated as with other BMW vehicles, but has gained in value with many listing for over $200K: One selling at Bonham's for $329K. When you combine beauty that harkens back to the retro BMW models, cutting edge technology for its manufacturing time, 6-speed manual transmission, V8 engine, and add in the rarity factor (BMW only manufactured 5,703 Z8 models for the entire world, and sent approximately 2,500 to the U.S.), this upward appreciation isn't so shocking and it's quite apparent this skyrocketing in value will continue for quite some time.
HISTORY OF MAINTENANCE:

2005
Guard installation beneath the front bumper to minimize potential undercarriage damage
Clear bra installation
Paint protection film put on bumper and rear
Reservoir covers replacement
2006
Engine control software update
Power steering pulley repair/installation
SBC system programmed and module update
New alternator and modified control cooling system unit
Brake repair
2007
Bluetooth adaptor installation
2008
Tel Aid line replacement
Rear wheel upgrade
Wheel Alignment
Rear axle repair
New brake calipers and wheel carrier replacement

2010
2-year service
Fuel filter and engine poly V drive belt replacement
Spark plug replacement
Compressor belt replacement
2012
2-year service
Tires / sensors replacement
Trunk spare tire inflator replacement


2014
2-year service
Injection pressure sensor replacement
Battery (2) replacement
A/C blower regulator and sensor replacement
2015
Rear control unit replacement
2017
Routine service
Tire monitoring sensors and tire valve stems replacement (all 4)
Engine belt replacement
Compressor belt replacement
Fuel EVAP line replacement