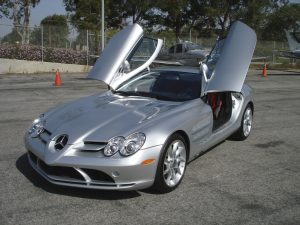 SOLD
Exterior: Silver Production No. 489 X-Large Driver Seat
Semi-Aniline Leather Black X-Large Passenger Seat
Interior: Red Crystal Laurite Silver Wheel Package

Engine: V-8
The Mercedes Benz SLR McLaren, SLR (Sport Leicht Rennsport or Sport Light Racing) was a joint project between Mercedes-Benz and McLaren Automotive. It is part of a proud legacy of the Silver Arrows of more than a century ago, including the 300 SLR race car (no. 722) that Stirling Moss drove to win the 1955 Mille Miglia in Italy.
The SLR features Sensotronic Brake Control (via a wire system) and carbon-ceramic disc brakes, allowing more stopping control and durability. Its calipers aid in keeping the brakes dry if driven in wet weather. It has a 5.4-litre, front-mounted, supercharged, 626 PS all-aluminum, V8 engine. The rear spoiler allows for optimal aerodynamics. At a certain speed, the car will automatically elevate the spoiler to 10 degrees. However, it can also be manually elevated by the driver to 30 degrees to increase the downward force.
Additionally, the SLR has a five-speed transmission with three manual modes and has a low weight of 3,858 lbs. because of a carbon fiber-enforced plastic construction. Its top speed is 207 mph and can get from 0-60 mph in under 3.8 seconds. However, pursuant to various tests conducted by Car and Driver, Motor Trend, and Road and Track, the SLR reached 0 to 60 mph within an averaged time of 3.4 seconds.
2005:
Guard installation beneath the front bumper to minimize potential undercarriage damage
Clear bra installation
Paint protection film put on bumper and rear
Reservoir covers replacement

2006:
Engine control software update
Power steering pulley repair/installation
SBC system programmed and module update
New alternator and modified control cooling system unit
Brake repair

2007:
Bluetooth adaptor installation

2008:
Tel Aid line replacement
Rear wheel upgrade
Wheel Alignment
Rear axle repair
New brake calipers and wheel carrier replacement

2010:
2-year service
Fuel filter and engine poly V drive belt replacement
Spark plug replacement
Compressor belt replacement
2012:
2-year service
Tires / sensors replacement
Trunk spare tire inflator replacement

2014:
2-year service
Injection pressure sensor replacement
Battery (2) replacement
A/C blower regulator and sensor replacement

2015:
Rear control unit replacement

2017:
Routine service
Tire monitoring sensors and tire valve stems replacement (all 4)
Engine belt replacement
Compressor belt replacement
Fuel EVAP line replacement