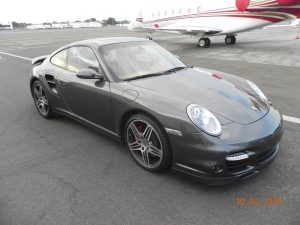 Exterior: Slate Grey Metallic

Interior: Natural Brown Leather

Engine: 6 – Twin Turbo Charged / Tiptronic Transmission
The 2007 Porsche 911 Turbo 997 features a front bumper with LED turn signals and fog lamps in each corner. The rear wheels have large air vents and there is a retractable rear wing, just like the 996 Turbo. Its engine's horsepower is 480 @ 6000 and can go from 0–60 mph in 3.3 seconds, touting a top speed of 193 mph. The engine turbochargers (3.6 liter turbo F-6) have a two-stage resonance intake system. The dual Variable Turbine Geometry (VTG) turbos change their angle depending upon exhaust speed, which boosts lag and prevents back pressure. One of the Turbo 997's options, the Sport Chrono package, allows this car to over-boost for ten seconds and increase peak torque. The 997 was also available with the Tiptronic (5-speed) transmission option which could be operated in two modes: normal automatic transmission or manual mode where the driver (either via gear lever or buttons on the steering wheel) is in charge of the gears. Its gearbox, even in the manual mode, stops the driver from accidentally downshifting.
This Porsche is great as an everyday driver. Its four-wheel drive system, which is integrated into its PASM computer-controlled suspension, provides a comfortable ride. As opposed to previous models, the Turbo 997 benefits from noise reduction in the cabin area and improved fuel economy for a better cruising range, as well as ample luggage space for a sports car.