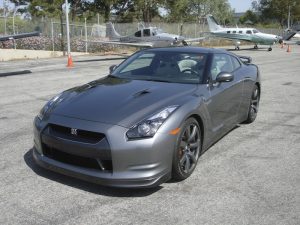 Exterior: Gunmetal Grey
Interior: Grey
Engine: V-6
The Nissan GT-R is an entirely new model from Nissan's previous one, the Skyline GT-R. The GT-R has all-wheel drive and a twin-turbo, V-6 engine that provides forced induction. This engine meets California Air Resources Board Ultra Los Emission Vehicle (ULEV) standards.
The exterior dons a chip-resistant paint job as the result of a six-stage process, and is fitted with LED headlights, tail lights, daytime running lights, and brake lights, in addition to: heated power mirrors, folding wing mirrors, flush-mounted door handles, four exhaust outlets, and UV-reducing solar glass. The chassis is steel with aluminum for its hood, doors, and trunk.
As a side note, the Nissan GT-R has also retained the Skyline's nickname, "Godzilla," coined by Aussie publication, "Wheels" in the late '80s.