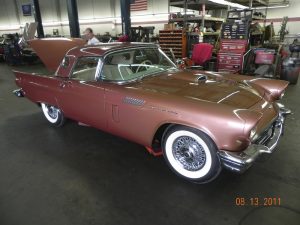 Exterior: Bronze
Interior: White
Engine: V8
1957 Ford Thunderbird "E" Convertible
Ford billed the Thunderbird as a personal car to emphasize the car's comfort and convenience features. However, this T-Bird was a very popular street race car, with 3-speed overdrive manual transmission and no power robbing hydraulics. The Thunderbird's V-8 engine was touted as "electronically balanced – while operating under its own power – to run smoother, quieter, and longer." It also boasted "advanced rear suspension (to control quick starts and stops), recalibrated shock absorbers (for a smooth, even ride), increased brake lining area (to take the heat off multiple stops), and advanced weight distribution."
As opposed to the 1956 model, this car was given a reshaped front bumper; a larger grille, tailfins, and tail lamps; re-styled instrument panel, including round gauges in a single pod; lengthened rear end (to accommodate the spare tire in the trunk). Ford also revamped the luggage compartment (now nearly 5 ½ feet long and 5 feet wide) which was "bigger and roomier than ever, even with the spare tire inside," and, with the turn of a key, the deck lid popped open.
"E" Code represents the high performance 312cid which included two 4-barrel Holley carburetors. That 312 cu in (5.1 L) V8 became the Thunderbird's standard engine with 245 horsepower. The model with the Paxton supercharger delivered 300 horsepower.
Ford marketed this "new limousine luxury" to both men and women: "Gentlemen agree that the Thunderbird is America's distinguished personal car. The only question in Thunderbird-owning families is whether it's 'his' or 'hers.'"
This Ford Thunderbird:
Featured in two magazines: Collector Automobile (front: 4 pages inside); and Car Collector (photos inside).
Bronze / Colonial White
Less than 1000 miles since restoration
Previous owner: 15 years; current owner: 7 years
Kelsey-Hayes wire wheels
Convertible top and hard top (porthole top)
Trunk antenna
Working gauges and radio